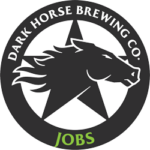 Dark Horse Brewing Co.
Dark Horse Brewing Co. is looking to fill summer positions for taproom servers. We are looking for fun, energetic, hardworking people that have a love and knowledge for craft beer!
If you would like to join our team please come down to the taproom and fill out an application!
Job Type: Temporary
COVID-19 considerations:
All customers are required to wear a mask, logged daily employee temperature checks and proper sanitation throughout the compound.
Experience:
Serving Experience: 1 year (Preferred)
Restaurant Experience: 1 year (Preferred)
Work Location: One location