Great beer is messy.
It all started back in a dorm room in Michigan's Upper Peninsula, where Aaron Morse discovered his ability to make the kind of beer that people remembered long after that first swig. Instead of departing college for a cubicle, he surrounded himself with like-minded souls and launched Dark Horse Brewery in Marshall, Michigan.
It was launched with a commitment to great beer and an aversion to just about everything else. Truth is, anything unrelated to crafting beer that knocked taste buds awake got little attention.
Turns out, that's not the easiest path. Heck, you could even call it an ill-advised one. But the results—the remarkable IPAs, the much-loved ales, the popular session beers—may not have happened without the bumpy journey.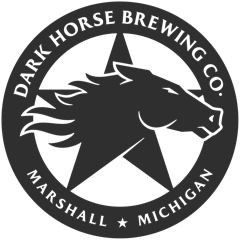 A whole lot of rebel, a little bit of responsibility, a bunch of curiosity. It's a lot to put into any beer. But once you taste ours, we're pretty sure you'll understand.