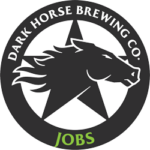 Dark Horse Brewing Co.
Dark Horse is looking to hire new cook's and kitchen staff who will be responsible for preparing awesome dishes for our guests. Must be able to follow instructions in cooking and delivering well-prepared meals. Must be deft in moving around the kitchen and apt in multi-tasking. Duties will include prepping meals by weighing, measuring, and mixing ingredients, cooking meals, checking ingredients for freshness, and arranging and garnishing the dishes. You will also be in charge of ensuring that the kitchen and equipment are properly cleaned and maintained.
Prior experience in a related position is an advantage but not necessary.
Restaurant Cook-Kitchen Staff Responsibilities:
Prepare awesome meals for our customers.
Set up workstations with all needed ingredients and cooking equipment.
Weigh, measure, mix and prep ingredients according to recipes.
Steam, grill, boil, bake or fry meats, fish, vegetables, and other ingredients.
Check food and ingredients for freshness.
Arrange and garnish dishes.
Keep a sanitized and orderly environment in the kitchen.
Work well under pressure and within the time limit.
Ensure that kitchen area, equipment and utensils are cleaned.
Wow our guests with amazing dishes.
Perks:
30% off your to go beer and merchandise
50% off your food for the day you work (1 meal per shift)
30% off your food when not working
$2 pints as an employee