Smoke Off 2021
September 18 @ 7:00 am

-

11:00 pm

|

Recurring Event

(See all)

An event every day that begins at 11:00 am, repeating indefinitely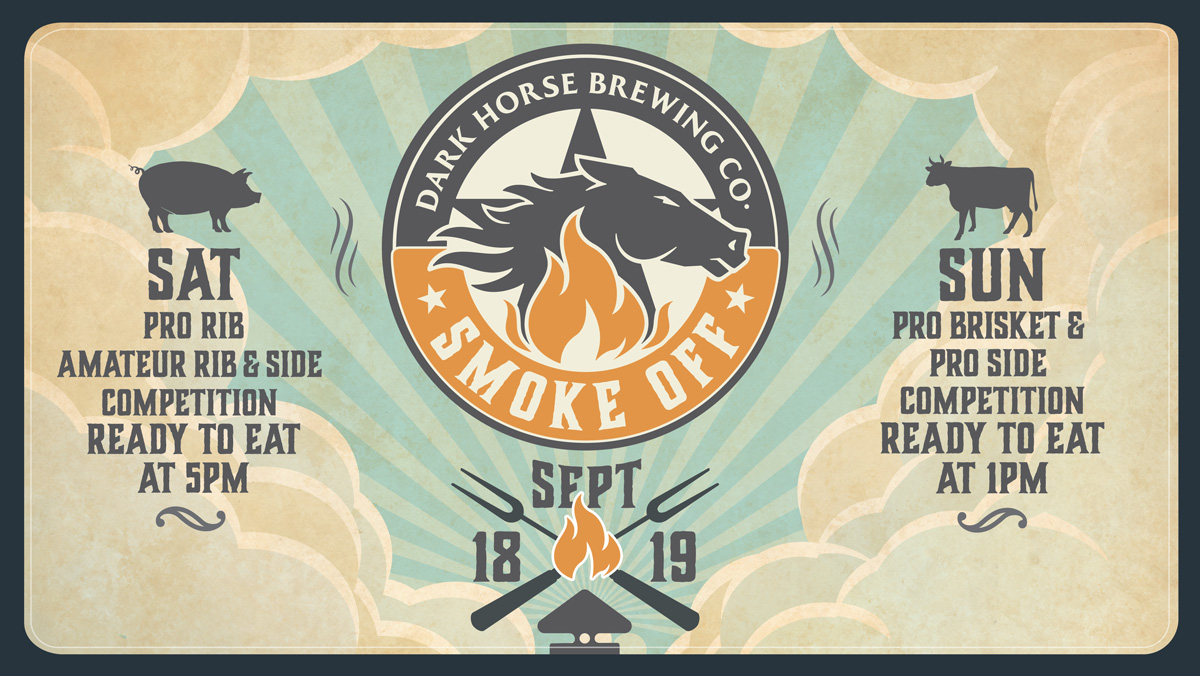 Our Annual Rib and Brisket competition! This year we will be supporting our Marshall Area Community Services (MACS) with perishable goods and donations. MACS maintains a food pantry and gives food to local people in need who contact them. Come support our local charity and help us give back to the community!
Saturday
Pros and amateurs will compete in the rib category. Saturday will also include the Amateur side competition.
Schedule
7am – Gates open for set up for contestants.
7am – Meat is available for pick up (for Pros).
8am – Meat is available for pick up (for Amateurs)
7am-11am – Taproom is open for contestants for beer specials
11am – Taproom, smoking area, and beer garten are open to the public
1pm – Live music begins
4:30pm – Rib turn-ins begin
5:30pm – Ribs available for public purchase
8:00pm – Announcement of the winners for the rib competition
10:30pm – Last call for alcohol
Contestants stay over night and smoke their brisket
Sunday
Pros compete in the brisket category. Sunday will also include the Pro side competition.
Schedule
11am – Taproom, smoking area, beer garten are open to the public
11am – Brisket turn-ins begin
12pm – live music begins
12pm – Brisket and sides become available to public
2pm – public voting closes for the side dish competition
3pm – Announcement of the winners for the brisket competition, the Grand Champion and the Reserve Grand Champion.
1. Ribs and Brisket: All Ribs and Brisket entered in the contest must be purchased from us in advance (part of your entry fee). If you want to eat ribs and brisket you will have to buy tickets like the public (buying tickets and trying other competitor's entries is encouraged). Ribs and Briskets will be available to pick up starting at 7am on Friday the 17th. For anyone interested, we will sell you extra ribs @ $15/slab and brisket @ $75/packer, but we must know in advance so we can order enough- Add to your registration form and make your payment accordingly.
2. YOU MUST USE DARK HORSE or ROAK BEER. All entries must use either Dark Horse or Roak's beer. Must be used somewhere in the prep or cooking process for ribs and/or brisket. This will be a part of your judging! This year you will have a sheet explaining your process.
3. You may use any type of heat source
4. Deadline: All Pro-division and Amateur entries must be turned in online or the event contact (Emily) with entry fees by Friday Sept. 10th, 2021.
Weather: This is a rain or shine event. Please plan accordingly.
Teams: Teams are limited to two people per entry (a third person will either need to start another team or pay the entry fee). All contestants are must agree to have fun. This is a charity event so please come to socialize, cook some meat, and make a difference for our local families in need. We want everyone to have a good time and enjoy being a huge part of our madness!
What we will provide: Each team will receive a wristband to get into the event, these will also give you a "smokers discount" on Beer. We will also have available, Water, Meat, your judging containers, serving boats, 2 pairs of gloves, wet naps, and electricity (If electricity is needed you may use it for your electric smoker. You must have this part marked on your registration form so we can set you up in the correct spot. These spots are limited so it will go to first come first serve)
What you will need to bring: Your fuel source, smoker, all utensils, any tools you may need, pop up tent (optional and something to hold it down if it is windy), folding table/prep area, chairs, your side dish (along with a list of allergies), and anything else you may want or need. Please note, you will not be able to park your vehicle at your designated smoking area- You must unload as necessary and park across the street.
If you have a covered trailer you cook out of, I need your dimensions filled out on your registration form.
When judging this year, we will be announcing the top half of contestants by name, the remainder of the contestants will be announced by their judging numbers.
This is a charity event and we are all here to create memories and have a good time.
BAND SCHEDULE
Saturday
1-3pm Kevin Nichols – Blues
3:30-5:30pm Shand Band – Classic Rock
6-8p The Mike Boyd Group – Blues
8-10pm Tino G's Dumpster Machine – Funky Rock
Sunday
12pm-2pm The Rolling hills – Indie Folk Duo
2-4:30pm The Chris Canas Band – Blues
Related Events